Founder & CEO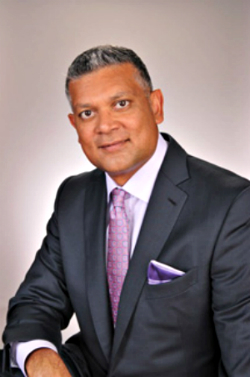 For over thirty years, David R. Andalcio's name has been synonymous with innovation in small business, commitment to community, and entrepreneurial leadership. Mr. Andalcio's career spans from his earliest ventures with electronics, distribution, manufacturing, and Information Technology companies, and later as a Board Director of the Illinois State Toll Highway and Chairman of the Engineering Committee, to his current role as CEO of Wynndalco Enterprises, LLC. Commended for his exceptional foresight, Mr. Andalcio's companies have been listed numerous times as Top 100 firms by Hispanic Entrepreneur and Inc. Magazine. Mr. Andalcio has also been personally named on Sterling's Who's Who for excellence and leadership, and International's Who's Who for professional, academic and civic achievements.
His remarkable ability to drive sustainable and successful startups began in the early 1980s. Early to embrace the emerging computer and systems market, Mr. Andalcio quickly distinguished himself as a leader in the industry, providing services to major corporations, as well as city and state governments. His leadership of a cellular communications company catalyzed the growth of the company to 14 franchise locations in under-served Hispanic markets, performing as the principal resellers of Ameritech products and services. Under his management of a precision manufacturing firm, the company was successful in receiving ISO9002 and QS9000 metal stamping accreditation. As CEO/President of Interface Computer Communications (ICC), Mr. Andalcio guided major IT deployments within Chicago Public Schools and helped to establish the company's relationships with technology leaders, including Apple, Compaq, Dell, Acer, HP, and Lexmark. Under his guidance, ICC developed into a one-stop shop for the purchase of equipment, installation, and integration services, as well as warehousing, logistical services, and custom configurations. Mr. Andalcio pioneered the design and development of the custom infrastructure management tool, TIMS (Technology Infrastructure Management Software).
Mr. Andalcio was appointed Director of the Illinois State Toll Highway Authority in 2003, due in part to his formidable experience in the business sector, commitment to technological innovation, engineering skills, fiscal responsibility, demonstrated ability to form partnerships, and his civic mindedness. Under his stewardship, the Illinois Tollway reformed its project delivery system through the development and implementation of a $6.3 billion capital improvement program, "Open Roads for a Faster Future". Major accomplishments of this effort were rebuilding and widening significant portions of the Tollway, including the conversion of twenty barrier toll plazas to open road tolling in less than two years, and completion of the 12-mile extension of I-355 South into Will County. During his tenure on the Board, Mr. Andalcio championed initiatives to ensure the quality and timeliness of engineering activities, as well as public involvement in the Tollway Expansion Project. Mr. Andalcio's tireless advocacy for minority participation in the Tollway program resulted in an increase of DBE participation in professional services from approximately 10% to 30% and construction services from approximately 2% to 21%. He later served as Chairman of the Engineering Committee and as a Member of the Audit Committee.
In 2009, Mr. Andalcio founded Wynndalco Enterprises, LLC, a rapidly expanding MBE/DBE company with over 50 employees in Illinois, Texas, New York, Florida, Colorado, Georgia, Puerto Rico, Mexico, and Port of Spain, Trinidad. Wynndalco is a culmination of Mr. Andalcio's decades of business expertise and personal drive to raise the bar of industry best practices and corporate social responsibility. Mr. Andalcio leads with a results-oriented approach and a sense of enduring optimism. Wynndalco is a principal provider of systems integration services to Chicago Public Schools and the Dallas Independent School District, responsible for receiving, asset tagging, imaging, etching and distributing all of the districts' computer purchases. Likewise, Wynndalco provides exceptional managed warehousing, scheduling, configuration, and deployment services using customized software to Chicago Public Schools and the suburban public busing system (PACE). As of January 2014, as part of the company's strategic growth initiatives, Mr. Andalcio expanded the company to provide professional engineering services to the public and private sector. Mr. Andalcio's commitment to ensuring quality educational opportunities for students extends beyond providing innovative technology solutions for the classroom and into securing critical technology funds. As E-Rate consultants for the Puerto Rico Department of Education (PRDOE), Wynndalco has assisted in the application for and recovery of millions of dollars for essential technology funds.
While his development of business strategies, global insight, and understanding of foundational market principles are unequaled, Mr. Andalcio's business prowess is rivaled only by his outspoken advocacy for minority, disadvantaged, and women-owned business enterprises. Armed with an indefatigable sense of social responsibility, Mr. Andalcio is a model of community leadership and best practices. As a native of Trinidad and Tobago, Mr. Andalcio's roots are firmly planted in the Hispanic community. In both his professional and personal endeavors, Mr. Andalcio is continually guided by the belief that, "In spite of gender, ability, ethnicity, or circumstance, all individuals should be equipped with the resources for equal opportunity." For decades, he has been recognized by numerous publications and organizations, including the Hispanic Chamber of Commerce, Ernst and Young, Hispanic Business, Minority Entrepreneur, and Inc. Magazine, for the indelible mark he has left on the ideal of successful minority business participation and his civic dedication to seeing the success of others in the community.
---
CURRENT
Member, Rotary Club of Chicago
Board of Directors, Logan Square YMCA
Principal Member, Chicago United
Principal Member, IHCC (Illinois Hispanic Chamber of Commerce)
Principal Member, HACIA (Hispanic American Construction Industry Association)
Committee Member, ACEC-IL (American Council of Engineering Companies of Illinois)
Principal Member, Government Business Contractors Forum
FORMER
Honorary Co-Chairman for the Business Advisory Council for the State of Illinois
Member of the Board of Directors of the Hispanic American Construction Industry Association (HACIA)
Chairman of the Business Development Committee of the Hispanic American Construction Industry Association (HACIA)
Director of the Illinois State Toll Highway Authority
Chairman of the Engineering Committee of the Illinois State Toll Highway Authority
Member of the Audit Committee of the Illinois State Toll Highway Authority
Chairman of the Illinois Hispanic Chamber of Commerce
Board Member of the Latino Caucus Foundation/Latino Caucus
2015 HACIA Member of the Year
2014 Latino Entrepreneur of the Year
2013 Board of Directors YMCA Logan Square
2012 Participant of Chicago United's Corporate Governance Executive Education Program at Notre Dame
2011-2013 Board of Trustees of Life Direction
2011 Latino Leaders Maestro Innovation Award
2009 Chicago United Business Leaders of Color Awardee
2007 Government Leadership Award- Illinois Hispanic Chamber of Commerce
2006 Appointed Chairman of the Engineering committee Illinois Tollway
2005 Board of Trustees Life Directions
2005 Appointed Board Member Latino Caucus / Foundation
2004 Chairman of the Illinois Hispanic Chamber of Commerce
2004 Board of Trustees Member of the Chicago land Chamber of Commerce
2003 Hispanic Business one of the 100 Most Influential of Hispanic Business
2003 Appointed Director of the Illinois State Toll Highway Authority
2003 #249 Hispanic Business top 500 Companies
2002 Hispanic Entrepreneur Top 100 Firm
2002-2003 University of Illinois Entrepreneurial Studies Program
2001 United States Hispanic Chamber of Commerce, Hispanic Business Man of the Year, Region 5